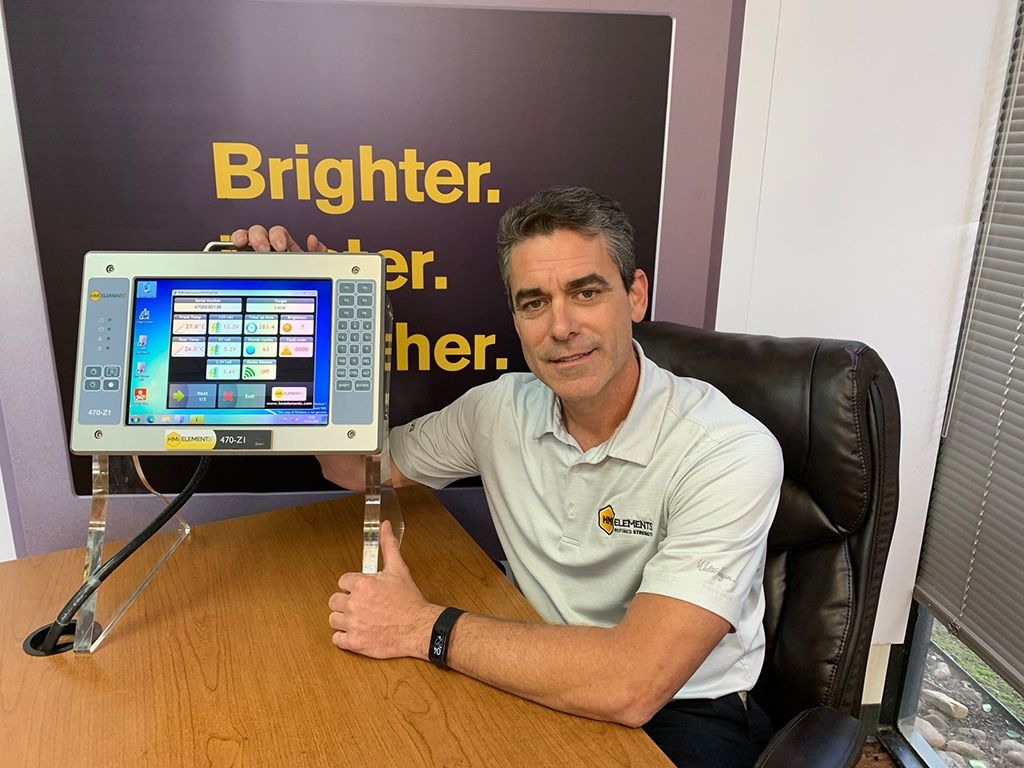 HMi Elements is offering a universally compatible hazardous rated Zone 1 certified rig floor display (RFD) computer to help those carrying out and monitoring mission critical drilling operations.
The HMi Elements model 470-Z1 is a drop-in ready RFD/HMI solution for integration with torque turn monitoring, tong control, casing running tools and casing inspection software.
It removes the need for oilfield services companies having to design their own as this unit is ready to synchronise with any casing system. ATEX, IECEx, AEx, CSA and EAC certification means it is fully compliant with all Zone 1/C1Z1 legal requirements and can be used globally as a mission critical computer.
The rig floor display computer also has a precision-machined durable aluminium enclosure of only 4.6" weighing just 33lbs / 15kg making it a semi-portable solution that can be packed away in a rugged travel kit.
The attention to detail of the design even includes a built-in handle to make lifting and transporting easy, engineered purposefully for easy up and down rigging.
Its highly specified 12" screen size carries refined graphics resolution of 1024x768 giving better touch accuracy and video detail allowing a range of native software resolution to lay out perfectly.
Multiple mounting options such as a folding desktop stand, pedestal yoke mount, built-in VESA pattern for wall mounting on every unit and a panel mount option are possible.
VP of Sales at HMi Elements, Rob Gaines said: "The 470-Z1 is a mission critical universal Zone 1 solution for torque turn monitoring.
"It is a plug and play ready solution built for rig floor use and is a completely neutral product.
"This means it can be adapted and customised and added to your fleet of hardware equipment as a special, bespoke HMI.
"It is a genuinely global product that does everything required and can be used on a rig in Texas, a desert in the Middle East or the freezing environments of Russia.
"It is Window 10 and 7 compatible so you can add any torque turn monitoring software for tubular connections and then connect via wi-fi, Zigbee, Ethernet, fibre optic, USB or Bluetooth and start regardless of where you are in the world.
"It can also connect to any data acquisition (DAQ) systems in multiple ways wi-fi, Ethernet, serial, fibre or multiple simultaneous connections such as wireless and copper Ethernet in case redundancy is needed.
"Our global oilfield services clients are carrying out mission crucial operations in harsh environments.
"Having the correct Zone-1 compatible hardware equipment to monitor tubular make up and ensure safety given it is a potentially explosive atmosphere means our computers play a crucial role."
Additional features of the 470-Z1 include quick plug-in explosion-proof connectors that can be supplied to synchronise with HMi Elements' existing cabling.
With the hostile terrain in mind, the 470-Z1 has a glove-friendly hardened touchscreen and a crisp sunlight readable display so it can be used even in the brightest environments with direct sunlight.
A clean-screen mode and integrated health monitoring software ensure reliability and useability at all times
All six sides are waterproof and ingress protected to IP66/NEMA 4X standard and can operate in temperatures ranging from -40°C to +60°C (-40°F to +140°F).
The 470 can also be private labelled with a company's branding and logo.
HMi Elements formed in 1980 and is one of just a handful of manufacturers in the world that make rugged standalone Zone 1 and Zone 2 certified computers suitable for full automation meaning less people in hazardous locations.